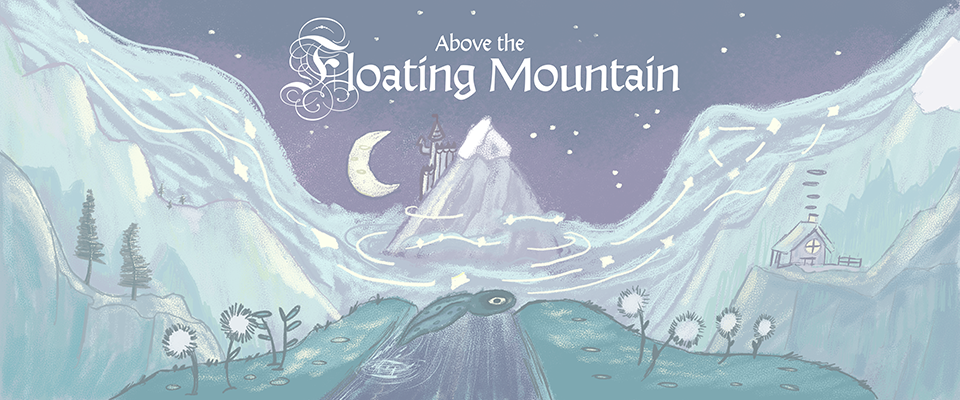 Above the Floating Mountain: A Wanderhome Space Addon
Above the Hæth, the night sky shimmers with unimaginable wonders, calling you impossibly far from home. You will fly to places cold and dark and distant, but you need not fly alone.
Above the Floating Mountain is an independently written and illustrated addon for Possum Creek Games' Wanderhome, focused on journeys out among the stars. It's inspired by worlds like The Little Prince and Super Mario Galaxy, and is filled with miniature stars and tiny planets, moonbeam bridges and lantern-lit starships, spacefaring moths, miraculous comets, and flowering gardens on the sun.
This fully-illustrated 26-page pdf contains:
Tips for using travels through outer space in the world of Wanderhome.
The Cosmonaut, an oversized playbook featuring a spacefaring vessel that grows and shifts with the changing of the seasons. As your companions travel with you, they'll leave traces of themselves in your vessel until it becomes a traveling home.
6 Orbital Natures: the portentous Comet, the crumbling Heap, the tranquil Moon, the exhilarating Sky, the voyaging Starship, and the cramped Station.
6 Cosmic Natures: the inexorable Black Hole, the ethereal Nebula, the ruinous Red Giant, the resplendent Sun, the lonely Void, and the eternal White Dwarf.
Additional traces for the Cosmonaut's vessel for each of the playbooks featured in Wanderhome's Guest Natures and Playbooks.

Wanderhome is copyright of Possum Creek Games Inc.
Above the Floating Mountain is an independent production by Riley Ruppert and is not affiliated with Possum Creek Games Inc. It is published under the Wanderhome Third Party License.
Purchase
In order to download this game you must purchase it at or above the minimum price of $7 USD. You will get access to the following files:
Above The Floating Mountain.pdf
5 MB
Exclusive content
Support this game at or above a special price point to receive something exclusive.
Community Copies
If you're interested in Above the Floating Mountain but can't afford the game without financial hardship, feel free to grab a community copy. If there are no copies remaining, check back in a bit. I'll update the supply of community copies periodically based on total sales, with a copy added for each $7 the game sells (including tips). Thanks to everyone whose support has contributed community copies so far!
Comments
Log in with itch.io to leave a comment.
Such a stellar collection (hehe)! Really evocative and so exciting to explore! Wanderhome!! in space!!!
this is so clever and so gorgeous!! i can't wait to read it!